By combining scrubby yarn (such as Scrub-ology cotton) with the smooth cotton of Peaches & Creme, you get a lovely reversible soap sack that can be used every day. Just turn it over to the scrubby side for some exfoliation when you want it, without the need for an additional washcloth.
My 2 Sides Are Better Than 1 Facial Round pattern inspired me to give the same treatment to my Spa Soap Sack, and today I'm going to share how I did it with you.
Paired with a bar of soap, this makes a lovely quick and inexpensive gift on its own or as a nice addition to a spa basket.
Be sure to follow me here and @yarnbending on Instagram to stay updated on my latest projects and patterns.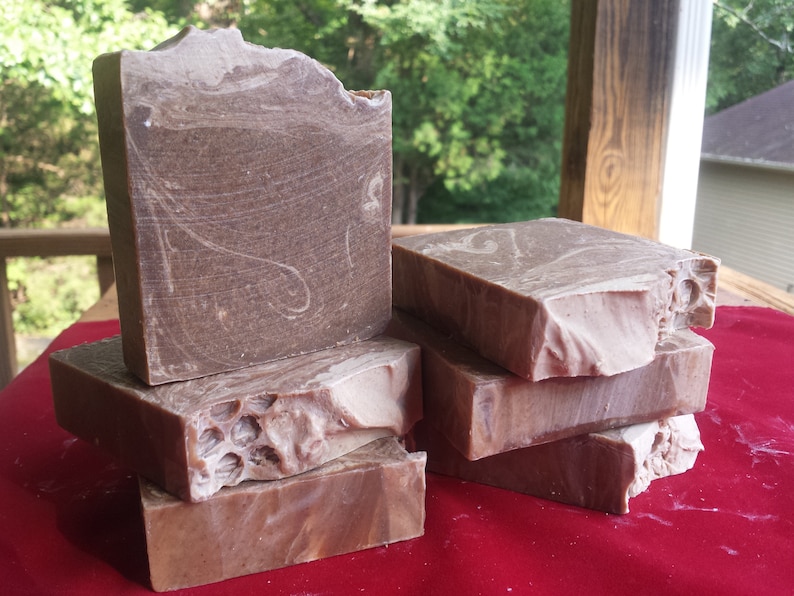 The soap I included with it is a lovely bar of Lavender-scented Goat Milk soap by Hatchie River Soapworks, a small soap shop that handcrafts all of their products in West TN from locally sourced ingredients.
Exfoliating Soap Sack
For this version you will need scrubby cotton yarn, as well as sooth cotton yarn.
Be sure to check the label and make sure it's 100% cotton yarn. A lot of the readily available scrubby yarns tend to be made from synthetic materials and are much much more abrasive than the cotton yarn is. This abrasiveness makes it great for dishes but too abrasive for your skin.
For the version pictured in this post, I used Peaches & Cream Cotton yarn in White along with Yarn Bee's Cotton Scrub-ology in Snowdrift. You could also use two different colors, but I decided to use white to match any soap and our towels.
A word of caution about scrubby yarn: if you happen to make a mistake and have to rip this yarn back, be careful, as it can break if you pull it too hard. This isn't a problem in the finished item, but it can be a problem with the yarn. If you've never worked with this type of yarn before, you may find it helpful to work one up with just smooth yarn first to familiarize yourself with the pattern.
Add this pattern to your Ravelry queue
You will need:
Smooth cotton yarn (such as Peaches & Creme)
Cotton scrubby yarn (such as
G/4.25 mm crochet hook
Tapestry needle
I recommend carrying the yarn along between changes, it makes for less ends to weave in at the end.
With the smooth cotton: chain 20
Rnd 1: dc in 4th ch from hook, ch 1 & *skip 1 chain & dc in next st, ch 1* repeat from *to* 7 times, work dc+ch 1 twice into last chain, you will now be working into the underside of the foundation chain. Repeat from *to* down the underside of foundation chain. Join with slip stitch first double crochet. (20 sts)
Rnd 2: ch 4 (counts as dc + ch 1), *dc in next stitch, ch 1* repeat from *to* in the next 11 stitches before changing to the scrubby yarn and repeating from *to* 8 more times, change back to the smooth cotton and join with a slip stitch to the 3rd chain of the starting chain. (20 sts: you should have 12 double crochet of the smooth cotton and 8 of the scrubby cotton)
Rnds 3-10: Repeat Rnd 2. (20 sts)
For the remaining two rounds you will be working solely with the smooth cotton yarn.
Rnd 11: ch 3, dc in each st and ch around, join with slip stitch to ch 3 (40 sts)
Rnd 12: ch 3, *dc, fpdc around next stitch*, repeat from *to* around, join with slip stitch to ch 3. (40 sts)
Drawstring:
With smooth cotton, tightly chain 75.
Fasten off and weave in ends. With a large eyed tapestry needle, weave the drawstring under each front-post double crochet from round 12 of the Soap Sack. Tie ends of drawstring together in a knot.
What do you think of this version? Let me know if you've made one!
This post first appeared on yarn-bending.com
Copyright 2021, All Rights Reserved.